Cheers To Your Health
By NOB HILL Gazette  |  August 3, 2021
With a surge in both popularity and options, nonalcoholic cocktails are a wellness movement earning prime real estate on the menu.
Mocktails are having a moment. From creative alcohol-free drinks appearing on bar menus to new brands that engineer zero-proof versions of gin, whiskey and sparkling wines, both supply and demand for healthy refreshments are on the upswing. A nascent energy reminiscent of the craft cocktail movement of the early 2000s is being channeled toward nonalcoholic concoctions.
The pandemic has put a spotlight on lifestyle habits and physical health, for better and worse. According to San Francisco physician James P. Hansen, M.D., "Many people with time on their hands started drinking too much and gained the 'COVID-19' [pounds]. But others realized this wasn't healthy and switched to nonalcoholic cocktails. Interestingly, this mental clarity allowed them to cook more healthy meals and to avoid impulsively eating fast foods and junk foods."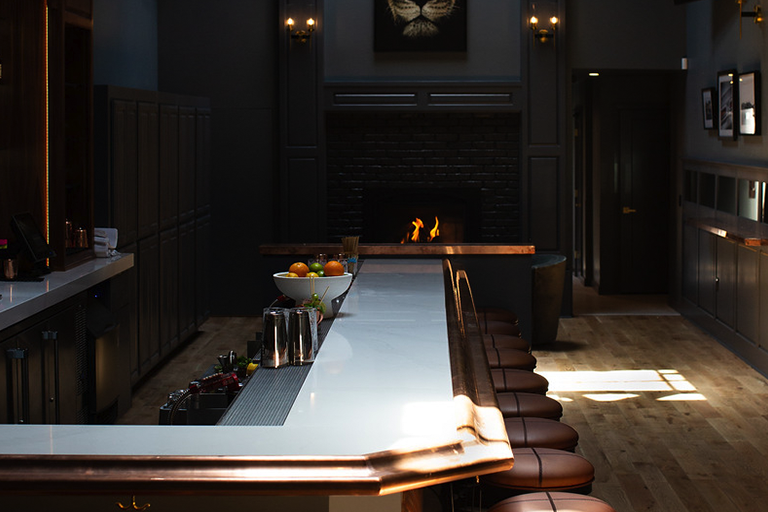 The Sherwood, a Swanky New Bar Is Open in West Portal
By Tablehopper  |  August 10, 2021
The former Portal's Tavern in West Portal has been transformed into ~THE SHERWOOD~, sloughing off its dive bar patina and now restored to highlight its 1939 bone structure, the oldest bar space in the West Portal area. The owners (Foli Media) utilized local craftspeople for every aspect of the buildout, from the custom walnut cabinetry to the built-in leather booth seating, and managed to prevail after numerous pandemic-related setbacks. There's also a grand crystal chandelier, whimsical art, and a cozy fireside lounge (the historic fireplace is the bar's centerpiece). The color palette of deep greens and dusty blues are evocative of Robin Hood's Sherwood Forest (there's also the nearby Sherwood Forest neighborhood, SF's smallest), while the antimicrobial copper bar tops, hand sanitizing stations, distanced seating, and a large parklet reflect our current pandemic reality.
THE SHERWOOD SAN FRANCISCO
THE SHERWOOD SAN FRANCISCO COCKTAILS & LOUNGE STRIVES TO KEEP THE CULTURE OF THE CITY ALIVE. IMMERSE YOURSELF INTO A ECLECTIC ATMOSPHERE AND INTIMATE SETTING WHILE EXPERIENCING NEW TAKES ON CLASSIC COCKTAIL FAVORITES.
Mon: CLOSED
Tues - Wed: 4pm - 12am
Thurs - Sat: 4pm - 1am
Sunday: 1pm-8pm
hours are subject to change